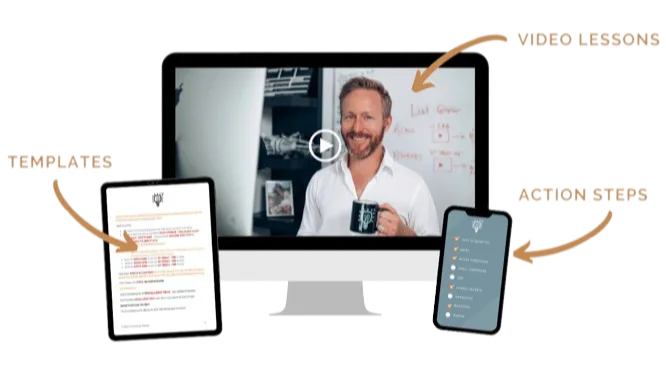 60 Day Brand Kickstarter
Are you ready for a step-by-step system that builds your personal brand, establishes your authority, and grows your audience?
This proven process guarantees the expansion of your brand. It allows you to leverage simple marketing strategies that will narrate your story for years to come.
Know Your Audience
Overcome overwhelm by using a blueprint of who they are, what they want, and what they're willing to pay for!
Create Content
Confidently create video and text-based content that captures the hearts and minds of your dream clients.
Grow Your List
Follow a step-by-step playbook that will help you start growing your list and achieve fast results.
Automate Business
Fill in the blanks with templates that construct your lead magnet, funnel pages, emails, and automations.
Tech Mastery Library
Over-the-shoulder videos and checklists to assist you in building your opt-in page, emails, and integrations.
Unsure How To Build Your List, Attract An Audience, And Sell Your Offers?
 If you're just starting up, these practical action steps can help you avoid the stress of expensive ads and ever-changing algorithms.
What most people do wrong…
They do the wrong things in the wrong order!

They have unclear messaging that confuses their market!

They spin their wheels making content that never takes off!
Instead, over the next 8 weeks you'll use this set of instructions to quickly launch your personal brand and grow your audience:
Save 100s of Hours Of Trial And Error!
A proven system to kickstart your brand. It's designed to help you reach your dream clients, scale your business, and generate a predictable income.
In just 60 days, you'll have your brand established, website launched, content plan in place, lead magnet created, and your email list beginning to grow.
Entrepreneurs, Service Providers, Course Creators and Creatives.
I believe you're the best-kept secret...
However, not many people know about you (yet). You need to share your story and help your audience discover the solutions you provide.
Whether you're ready to quit your day job, itching to start your own business, or simply want to build your authority and expand your career...
You must share your story online and grow an engaged audience you can connect with on social media and via emails.
I understand firsthand how challenging it can be to know where to start, and then to stay consistent with content creation.
For years, I grappled with where to even begin. I wasted so much time and energy chasing tactics, instead of focusing on building a solid, easy-to-manage foundation.
I've invested the last decade of my life creating a set of instructions to build your brand and start growing your audience.
This process has given me the life I always dreamed of. No more sitting in traffic. No more praying for a day off from my boss. No more building someone else's dreams.
I've been able to live where I want, work with whomever I choose, and set my own working hours. And I want you to have the same freedom.
That's why I'm so excited to invite you to the same proven process that has helped thousands of my students launch businesses, achieve freedom, and secure financial predictability.
Your 8 Week Plan To Grow Your Audience…
Weeks 1-3:

Brand Plan
---
Logo, Colors, Fonts: Ensure consistency across all your assets.
Vision & Mission Statements: Stay focused on why you do what you do.
Brand Values: Attract the exact people who share your values and whom you love to serve.
Audience Empathy Map: Dive into the minds of your audience so we can use storytelling to captivate attention.
Deliverable: Brand Book - You'll have an easy-to-follow set of guidelines so your brand shows up consistently.
Weeks 4-5:

Brand Foundation
---
Gorgeous Website: Develop a site that tells your story and converts visitors into email list subscribers.
Social Media Channels: Tell a clear story, and drive all leads back to your site to grow your audience.
Deliverable: A plan for the exact messaging you'll put on your website and social channels.
Weeks 6-7:

Content Plan
---
Topic List: Never again question what to write.
Hot 100 List: Create a game plan for ethically engaging the audiences of other experts.
Content Templates: Have a pre-built set of templates ready to go so you can easily create content.
Deliverable: An easy to follow content plan with topic list and simple publishing plan.
Week 8:

 List Grow Funnel
---
High Converting Opt-in Page: Develop a simple page that builds your list of ideal prospects.
Lead Magnet: Give away an irresistible freebie that educates and inspires your audience.
Nurture Emails: Set up an automation system that builds your relationship, delivers value, and excites them to learn more.
Deliverable: A fully functioning funnel ready to grow your list and authority.
Bottom Line: 
In 8 weeks or less, you'll acquire the skills, confidence, and strategy to grow your business.
Finally build the foundation that gives you the freedom you deserve, and the life you love.
Introducing:
60 Day Brand Kickstarter
LIFETIME ACCESS
Examples of Successful Launches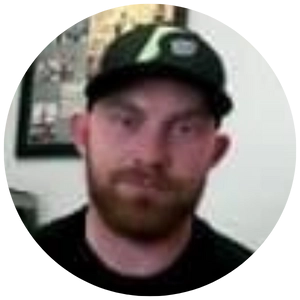 $18k +$6k monthly
Jonathon launched to $18k +$6k monthly recurring income
$250k after launching
Clay exceeded his $250k corporate salary after launching
$16k after launching
Gina earned $16k after launching her new coaching offer
$70k from just 1 client
Dr. Vince launched his new offer and got $70k from just 1 client
$60k after launching
Sheryl collected $60k after launching her coaching offer
What's Included Inside 60 Day Brand Kickstarter
5-Step Process
Jumpstart your success, without getting stuck in overwhelm or second-guessing yourself. ($1997 value)
Tech Library
An over-the-shoulder library on how to stress-free build your entire foundation. ($497 value)
Template Library
Ready-to-use fill-in-the-blank templates that prepare you to launch your brand quickly. ($397 value)
Growth Plan
Predictably grow your audience post-launch. Get ready to welcome long-term success! ($297 value)
Lifetime Updates
As my business evolves and marketing trends shift, I update the training. (Priceless)
Bonus #1: Get Started Quiz
Answer a few questions, then receive a custom game-plan to jump straight to the lessons you need for immediate results. ($97 value)
Bonus #2: Camera Confidence
Worried about being on camera? So was I! I'll share every tip, trick, and tactic I learned from six years of acting classes with some of the top acting teachers in Hollywood. No more panic when you turn your camera on and start sharing your story. ($97 value)
Bonus #3: Story for Marketing 
You'll appreciate this practical, step-by-step bonus course that teaches you how to incorporate Hollywood-style storytelling into your brand messaging. It simplifies understanding of how stories work and offers straightforward frameworks to integrate them into all your content. ($97 value)
Bonus #4: Omni-Content System
The key to growing your list is consistent content creation. This system will show you how to produce a flagship piece of daily content and transform it into a series of videos, posts, and images for publication. Finally, have a clear plan for what to create and when. ($497 value)
Total Value of $3,976.
But because I believe you're a real Visionary, I'm dropping the price today to just…
You Will Get Lifetime Access To:
5-Step Process ($1997 value)

Tech Library  ($497 value)

Template Library  ($397 value)

Growth Plan  ($297 value)

Lifetime Updates  (Priceless)

 
Bonus #1: Get Started Quiz ($97 value)  

Bonus #2: Camera Confidence ($97 value) 

Bonus #3: Story for Marketing ($97 value)  
Bonus #4: Omni-Content System ($497 value)  
TOTAL VALUE  

$3,976
Join Today For Just $497
Not quite sure? Or have you been burned by other courses in the past?
I totally understand. That's why I'm inviting you to test out the 60 Day Brand Kickstarter today. 
Experience for yourself how easy it is to clarify your message and grow your audience. 
You have a whole month to explore the lessons, utilize the templates, and take massive action. Imagine this - in just a few weeks, you could gain total clarity on how to build the brand of your dreams.
If you're genuinely committed to your vision, then I have complete confidence that this set of proven 'best practice' strategies is the right fit for you. You truly have nothing to lose.
The sooner you implement these strategies, the quicker you can attract hundreds of followers who are ready and eager to purchase your products or services.
Remember, this is all 100% risk-free!


Questions?
Here's What Fellow Visionaries Asked Before They Joined Us…
Do you teach about social media strategies?
Do I have only 60 days to access the lessons?
Do I need to use your recommended apps or outsourcers to build my brand?
What if I haven't kickstarted my business yet…will this still work?
I don't sell courses or coaching…will this still work for me?
What is your return policy?
This sounds like a lot! What if I get overwhelmed?
I'm just starting out…is this for me?
How much time do I need to put in each week?
I've seen other courses selling for a lot more. What's the catch?
The Visionary Planner - All Rights Reserved - Terms of Use - Privacy Policy - Earnings Disclaimer
Disclaimer: We believe our students when they tell us their results. We have not independently verified what they tell us. That said, results vary from student to student, and we in no way guarantee any financial result from using our system. Results vary because every business, business owner and market is totally different.

This website is operated and maintained by 308 Publishing INC. Use of the website is governed by its Terms Of Service and Privacy Policy.

308 Publishing INC is a sales and marketing education and training company. We do not sell a business opportunity, "get rich quick" program or money-making system. We believe, with education, individuals can be better prepared to make investment decisions, but we do not guarantee success in our training. We do not make earnings claims, efforts claims, or claims that our training will make you any money. All material is intellectual property and protected by copyright. Any duplication, reproduction, or distribution is strictly prohibited. Please see our Full Disclosure for important details.

Investing of any kind carries risk and it is possible to lose some or all of your money. The training provided is general in nature, and some strategies may not be appropriate for all individuals or all situations. We make no representation regarding the likelihood or probability that any actual or hypothetical investment will achieve a particular outcome or perform in any predictable manner.

Statements and depictions are the opinions, findings, or experiences of individuals who generally have purchased education and training. Results vary, are not typical, and rely on individual effort, time, and skill, as well as unknown conditions and other factors. We do not measure earnings or financial performance. Instead, we track completed transactions and satisfaction of services by voluntary surveys. You should not, however, equate reported sales transactions with financially successful transactions. Further, many customers do not continue with the program, do not apply what they learn, or do attempt to apply what they learn but nonetheless have difficulty in making sales successful for them.

The Company may link to content or refer to content and/or services created by or provided by third parties that are not affiliated with the Company. The Company is not responsible for such content and does not endorse or approve it. The Company may provide services by or refer you to third-party businesses. Some of these businesses have common interest and ownership with the Company.

This site is not a part of the YouTube, Bing, Google or Facebook website; Google Inc, Microsoft INC or Meta Inc. Additionally, This site is NOT endorsed by YouTube, Google, Bing or Facebook in any way. FACEBOOK is a trademark of FACEBOOK, Inc. YOUTUBE is a trademark of GOOGLE Inc. BING is a trademark of MICROSOFT Inc.